Copeland and Wilson, Mineral Water Manufacturers, Hanley
Years Trading (Known)
Known Addresses
Predecessor
Successor
1888 - 1898
Portland Works, Jasper Street, Hanley
Copeland & Turner
The Dee Mineral Water Company
The business of Copeland and Wilson was founded on 22nd March 1888, following the dissolution of a previous partnership between John Copeland and Charles Turner (trading as Copeland and Turner). The following newspaper article is taken from the London Gazette for June 5th 1888: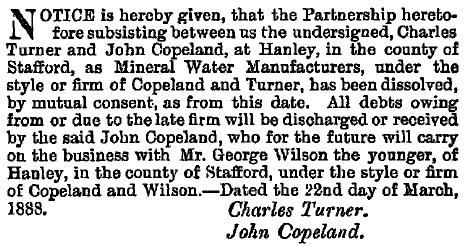 John Copeland was now joined by George Wilson the younger, a son of George Wilson, who was a butcher living and trading in Parliament Row in Hanley. The company traded from the Portland Works, Jasper Street, Hanley, and utilised an image of the famous Wedgwood Portland Vase as their Trade Mark: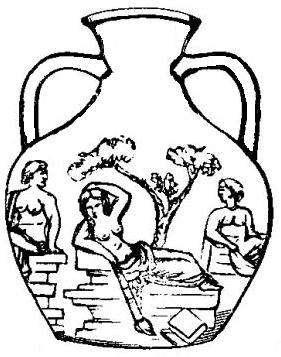 George Wilson also acted as secretary to the Mineral Water Bottle Exchange Association, as this 1896 trade directory extract shows:

However, by 1898 George Wilson moved away from Hanley to set up business as a Mineral Water Manufacturer on the outskirts of Chester, trading as the Dee Mineral Water Company. He took with him the company trade mark, and even called his premises the Portland Works, the same name that had been used for the earlier Hanley works.
The following Gazette entry shows that the partnership of Copeland and Wilson was officially dissolved on 18th November 1898, just over ten years since its formation.