Jonathan Gilbert & Sons, Mineral Water Manufacturers, Hanley
Years Trading (Known)
Known Addresses
Predecessor
Successor
18?? - ????
4 Mersey Street, Hanley
52 & 54 Well Street, Hanley
-
-
Jonathan Gilbert & Sons traded as the Anchor Brand Mineral Water Works. The company used an anchor as a trade mark: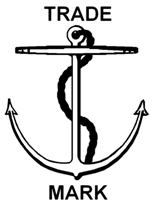 From the 1881 census, Jonathan Gilbert was recorded at 4 Mersey Street as a Soda Water Maker. At this point he had one son, Edward, aged 6.
By 1891, Gilbert had moved to 52 & 54 Well Street, and now had eight children. Gilbert's second son was born around 1883, so it can be assumed that any bottles with Gilbert & Sons on it is post-1883.
By 1901, Gilbert was no longer living at his Well Street address, but it seems the business continued here, as the census records Lilia Kelsall resident at number 54 working as a mineral water manufacturer (worker), while at 52 lived William Holford, who was a mineral water carter (worker). William Gilbert, one of Jonathan's sons is also listed as mineral water carter (worker), lodging at number 12 Well Street.
Neither Jonathan or his wife Lavinia can be found on a census post 1891 - by 1901 all of their children can be accounted for either married, or lodging with other families, so it is unclear what may have happened to them.
Bottles from the company
Several different codd bottles are known from the company, including bulb neck codds, standard codds, and Dobson's Patents. They also used impressed and transfer printed stoneware ginger beer bottles.